Welcome to our new service… SelfiePartyPrints
Are you looking for something different to make your corporate event, conference or even PR event fun and unique?
Well look no further than with The Photo Team!
The "selfie" has arguably become the greatest photographic trend of our time and is still ever so popular for all age groups. The trend will never fade and instead is growing. Therefore, The Photo Team wants to take full advantage of this and provide a unique service that no one in the market is currently providing, so…
… we have launched an exciting new service called SelfiePartyPrints!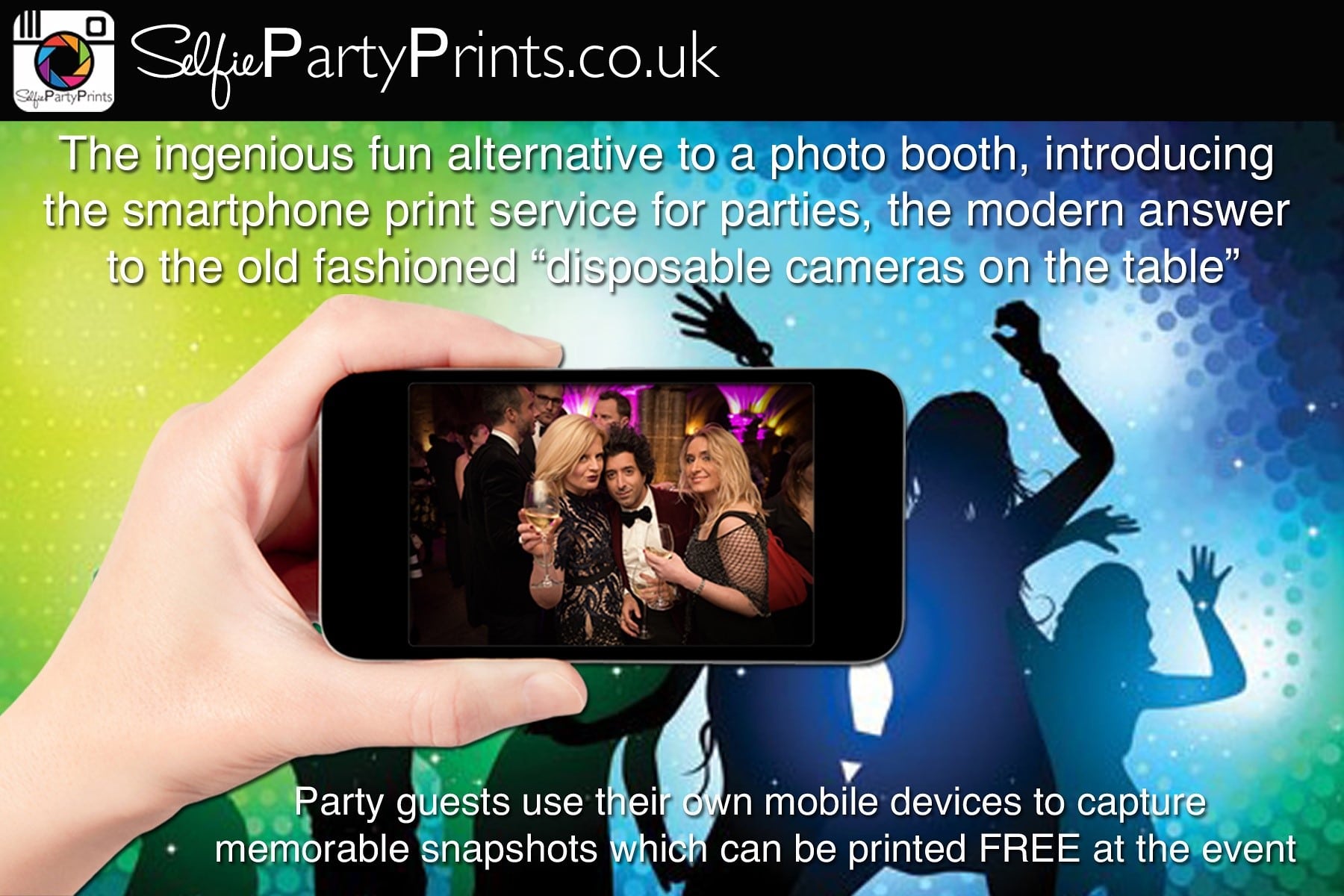 This is an innovative NEW service using the latest smart technology.
SelfiePartyPrints will enable users of smartphones to download a FREE app while attending an event (app personalised to the event), via the app they can capture pictures while attending the event, as they would do normally, but the images can be sent to our special terminal at the event wirelessly where they can be printed.
Why SelfiePartyPrints?
Everyone already carries a 'photo booth' around in their pocket in the shape of a smartphone but what people don't always have is a means for actually printing the photos stored on their mobile devices.
SelfiePartyPrints provides the solution we've all been waiting for, a simple and efficient way of almost instantly converting people's images into high quality photo prints in literally just seconds.
Take advantage of the selfie trend…
Ideal for:
Conference Events
Corporate Events
PR Events
Restaurants
Hotels
Weddings
Parties
Benefits of this service –
Any one with a smartphone can use this service
Utilises every smartphone at an event
Guests can leave with printed picture keep sakes from the event
Branded or logos on prints
All the pictures taken at the event are stored in one place
Online digital gallery after the event, sharing all pictures taken at the event
Personalised app to the event
Social media sharing
If you are interested in something new, be the first to have this new service at your upcoming event for FREE for a limited time only…
Thereafter we are offering an amazing introductory charge of £399, which includes free prints for a 3hrs duration and a free picture guest book for weddings.
​
Contact us today! You will not be disappointed​!!!
Thanks for reading and have a great bank holiday weekend!
The Events Paparazzi Team